The first step is to talk to us...
If you've chipped, broken, or knocked out a tooth, prompt attention can prevent irreversible damage or full loss of the tooth.
If you're in any pain, that means something is wrong in your mouth and indicates that you should seek immediate help.
If your condition isn't treated promptly, or assessed at minimum, then your pain is likely to worsen.  Since your body is affected by your dental health, an untreated condition in your mouth could also lead to greater health concerns.
To ensure you aren't putting your dental or overall health at risk, and to limit the possibility of permanent damage to your teeth or gums, it's recommended that you seek immediate help if you're suffering from any of the emergency conditions below.
Contact Emergency Dental YYC now, to get help with...
Painful tooth / toothache

Chipped / broken / loose tooth

Loose / broken / missing dental crown

Broken orthodontic braces

Broken permanent retainer
Concerns after trauma / injury

Gum inflammation / swelling

Any other pain in your mouth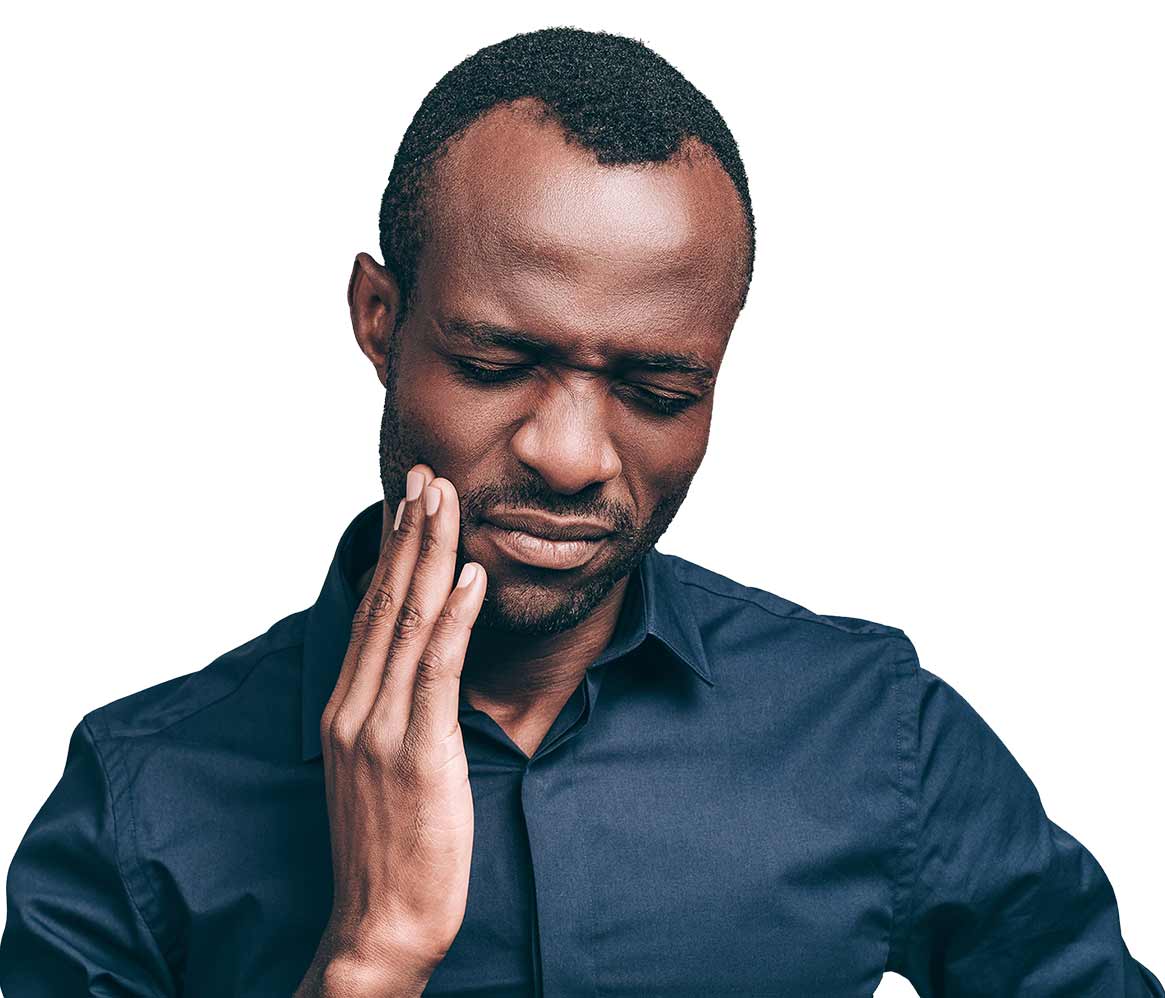 We care...
When you need it most
Our team is skilled, professional, compassionate and supportive.  We specialize in emergency dental care + urgent treatment.  We understand the discomfort or extreme pain you might be experiencing!
And we can help you!
Our highly qualified team members do everything they can to relieve your pain and solve your dental problems in a timely fashion.
"Our commitment is to quickly respond to your concerns, provide a prompt and effective resolution to your dental problem, and offer treatment that's as gentle as possible."
How we uphold our commitment to you:
Availability
Unlike other Calgary clinics, we're available after-hours to hear about your situation and ensure you can get prompt treatment at our clinic, and we're open 365 days a year.
Professional Care
Just like your regular dentist, the dentist & team that will assist with your care at our clinic are fully qualified and will base your treatment on the highest standards of care.
Empathy
We understand the pain and distress that you're experiencing, because emergency dental treatment is all we do.  Get help now, from a clinic that will listen, care, and relieve your pain.
Common Questions + Concerns
When you phone our clinic we will ask you questions and assess your situation, to determine how urgently treatment is needed.
In some cases your treatment can wait several hours, like overnight.  In some cases it shouldn't.
The only way to know for sure is to phone us and we'll answer your questions.
Our phone number is 587-351-2243
Please phone our clinic as your first step in getting help.
We do accept walk-in patients, but we encourage you to speak with us first to receive the best possible schedule for your treatment. This way we can also assess your situation over the phone and see how urgently you need to be helped.
Our phone number is 587-351-2243
We offer extended hours into the late evening, 365 days a year, and have extended hours compared to the majority of other clinics. However, we're not available in the middle of the night for phone calls or treatment at this time.
Give us a call at 587-351-2243 to see if we're available to discuss your current condition.
With a pre-booked appointment, our wait times are typically insignificant, just like waht you'd expect at any other dental clinic.
If you are a walk-in patient it's less predictable and you may need to wait while we finish treating another patient. We'll still aim to keep your wait as short as possible, but please consider that emergency treatment can sometimes take longer and we'll always spend the time to do it right.
For these reasons, we recommend that you call ahead to schedule an appointment, even though walk-ins are welcome.
Yes, we do accept patients without an appointment during daytime and evening hours, though it's greatly preferred that you phone us first. This way we can assess your situation, discuss scheduling and short-term availability, and ensure you don't have to wait at our clinic to be seen by the dentist.
Our phone number is 587-351-2243
Yes, there is a convenient and free parking lot in front of our clinic, with easy access from Macleod Trail Northbound.
If you are traveling Southbound on Macleod Trail, turn left on 39th Ave, at the T-Intersection turn right on 42nd Ave, then turn right on Macleod Trail to head Northbound. We're located half a block North.
It may help to view a Google Map of our location, which you can also use to get directions from your current location.
Yes, we accept nearly any dental insurance policy to help you cover the cost of your treatment. This will be discussed when you first call our clinic.
Yes we can. When we discuss your insurance coverage, we can discuss the option of direct billing with you. Feel free to ask us any additional questions you have when you phone in.
Yes. You will simply be responsible for paying for your treatment with cash, debit, or credit card (except American Express).
We don't need anything from your dental clinic in order to provide treatment, but in some cases it can be helpful.
If your regular dentist is open, but you weren't able to book an appointment with them, we should be able to obtain your patient files and previous x-rays from them. If the x-rays are recent enough and display what we need, then we can sometimes use them in your treatment at our clinic. Though in some cases we will be required to take our own x-rays for your emergency treatment, to do an up-to-date assessment.
For administration purposes, please arrive with government-issued photo ID and your insurance card/information. If you receive coverage through Alberta Health's Coverage for Seniors program, please bring your Alberta Health Card. Bringing a credit card will also allow us to direct bill your insurance provider.
For treatment purposes, please bring along any "pieces" that we may need if you've experienced a knocked out tooth, broken tooth, or chipped tooth, orthodontic bracket, retainer wire, or restoration such as a filling, bridge, veneer, dentures, etc.
For more information on how to prepare for your appointment, please call us at 587-351-2243
Yes, and it's not uncommon for us to help children who have suffered an injury, broken / chipped a tooth, or are suffering any other discomfort or dental emergency.
If your child is cooperative and compliant when visiting your regular dentist, we should have no problem treating them at our clinic as well. We also have accessories and props which can also help children cooperate and feel comfortable, just like your regular dental clinic may have.
If your child has difficulties being compliant with your regular dentist, or has special needs, we may need to discuss with you whether treatment at our clinic will be appropriate, or whether we would recommend visiting a specialist.
Yes, we accept any patients at our clinic.
We are able to treat you at our clinic if you're experiencing a dental emergency while traveling in/near Calgary, or live outside of Calgary and don't have access to a dentist because they're closed, it's the weekend, they're booked up or on vacation.
We often see patients from Airdrie, Okotoks, Strathmore, Cochrane, Chestermere, Langdon, Didsbury, Carstairs, Turner Valley, High River, Canmore, Red Deer, Lethbridge, Black Diamond, and other areas surrounding Calgary.
Once your treatment at our clinic is complete, we recommend you follow up with your regular dentist at the earliest convenient time you can see them.
We do not provide regular dental care such as cleanings, hygiene or check-ups, so once your immediate problem has been resolved you will resume routine care at your regular dentist.
Depending on your situation, the treatment we provide may be the first step to full recovery and your regular dentist can resume the full treatment after we've solved the immediate problem. In other cases, it can simply be helpful to discuss the work we've done with them and update them on your situation.
If x-rays were taken at our clinic, we will always share them with your regular dentist and provide any details that they need to know. This will be discussed with you when you visit our clinic.